Born in Melton Mowbray, Leicestershire, the artist Duncan Whiteman graduated as a sculptor at Leicester Polytechnic in 1983 and moved to Madrid, Spain in 1991 where he lives and works today.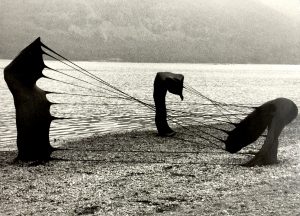 Widely known for the 'Living Sculptures' he first developed as a student in 1981. They explore the relationship between the human figure and constructed environment and have since then been exhibited, collected and commissioned around the world. Illustrated here: Black Forms in Three Parts, Derwent Water, Cumbria (1984).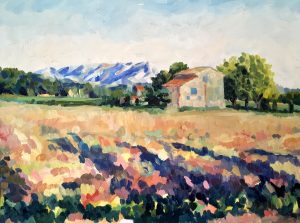 His paintings are more personal, intimate, revealing his passion for colour, light and landscape. Illustrated here: Farmhouse and Mont St. Victoire (1992) Until recently they have remained in private hands, generously supported by a close circle of friends, family and collectors. His recent work sets out to explore through colour and light the land forms and textures he encounters capturing the spirit of a place rather than specific detail. They offer us that first glimpse as we turn our head, before we have time to focus on a scene that might be unexpected, breathtaking and beautiful, strong enough to both arouse attention and heighten our senses.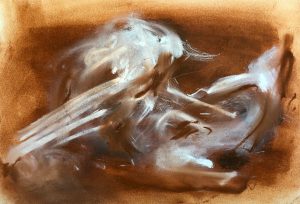 Like most British artists, his approach reflects a formative training and strong narrative in European Art juxtaposed with a desire to question everything, experiment and push the boundaries of representation.
In his own words 'I see to create and create to see' draws upon his formal training by leading artists, Geoffrey Beasley, Patricia May, Kenneth Ford, Susan Tebby, and Theatre Arts Director Stephen Carter, each contributed towards laying a solid foundation of good practice, research and experimentation. Only when the rules are understood can they be broken. The only limit is your imagination and the only 'new' rule is there are no rules!
His approach to ideas has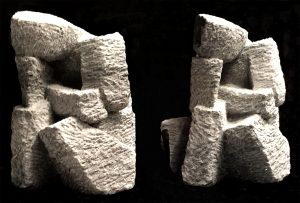 never taken the most direct or obvious route, after all, that hardly ever leads to exciting imagery or break through discoveries. To give one example, whilst preparing to start a major stone carving, illustrated here: Pause for Thought (1981) it is 1.3meters in height and the result of observation drawings, plaster maquettes and photographs. Nothing unusual about that until it was revealed that he was the model cocooned in Lycra in the photographic series, illustrated here: Tension (1981). They provided what he needed to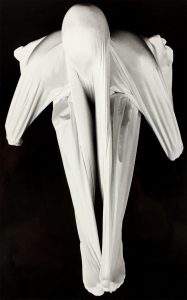 complete the stone carving and opened the door to a completely new creative process by simplifying the human form and removing its identity, it also transformed the live sculptural model into the new object of his work.
This marked the start of an exciting creative period as Whiteman explored every aspect of the human figure as both subject and medium, challenging preconceptions and orthodoxy in British Art. Working with groups that included Sumo wrestlers, pregnant women, babies, disabled people, elderly, soldiers, and dancers, each of whom embraced the opportunity to collaborate with the artist. Not surprisingly the work has attracted international attention.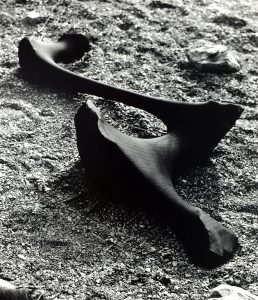 Whiteman embraces traditional and new media with equal passion, whilst mastering their unique properties he is never afraid to experiment, challenge our preconceptions and with nature's help, creating some exciting encounters!
After a winter storm in the Highlands of Scotland hill-walkers came across what they thought was a lifeless traveler, its clothing only partially exposed through the frozen snow. The story retold by a local barman in Mallaig, recalled how the team frantically clawed away at the ice desperate to release the frozen body only to discover they had uncovered a piece of the artists sculpture, similar to, illustrated here: Reclining Form (1989), consisting of selected large rocks cocooned beneath a specially made Lycra garment. Not every encounter is quite so dramatic but each is unique, personal and on equal terms with the viewer and the environment where it is set.
Without doubt his journey is well begun, drawing upon his skill and passion for his work and life, he is never afraid of its challenges and always excited about the adventures and discoveries that lay ahead.
We hope this brief introduction has whetted your appetite to know more. The selection of work featured on this website, much for the first time is an appetizer, focused on his recent 3D paintings that are being prepared for exhibitions, many are also available for sale.
If you would like more details about the artists work including the Living Sculptures, static wrapped sculptures, limited edition maquettes, photographs and videos, early digital art and 3D animation, or work held in private and public collections around the world, please don't hesitate to use the Contact Form.
You may download his resume here.
Link Top of Page