How many of us hold a few musical notes in our head of a tune half heard, remember a sentence but not the whole speech, or fragrance of brief encounters with people and places we experienced long ago. Precious memories such as these unique to every person, recalled in our dreams and mind's eye, each a fragment of an experience that consciously or otherwise help us make sense of our lives, the world, and remember its pains and pleasures.
Colours and light dance before our eyes, glimpsed in a moment when we are not fully conscious; our mind conjuring the experience; our view of the world not fully formed.
The Limited Edition Autumn Suite: Mountain Stream I captures the essence of that experience, the colour and light reflected and refracted between trees, leaves, rocks and rivers on an autumn day in the mountains.
The hand painted wooden cubes invites us to explore their multi-coloured surfaces not just with our eyes but with physical movement too, revealing and concealing at the same time fragments of our world that enter our subconscious and establish a uniquely different perspective every time we look.
These small delicate pieces can be viewed independently and combined with others to create more complex compositions. Their tactile nature establishes a much closer bond between the artist, work and viewer; active rather than passive, harnessing all our senses to unlock our memories and experiences.
They also offer a glimpse of exciting new work being prepared by the artist that will challenge the practice of painting and how we interpret the world around us. Our journey has just begun!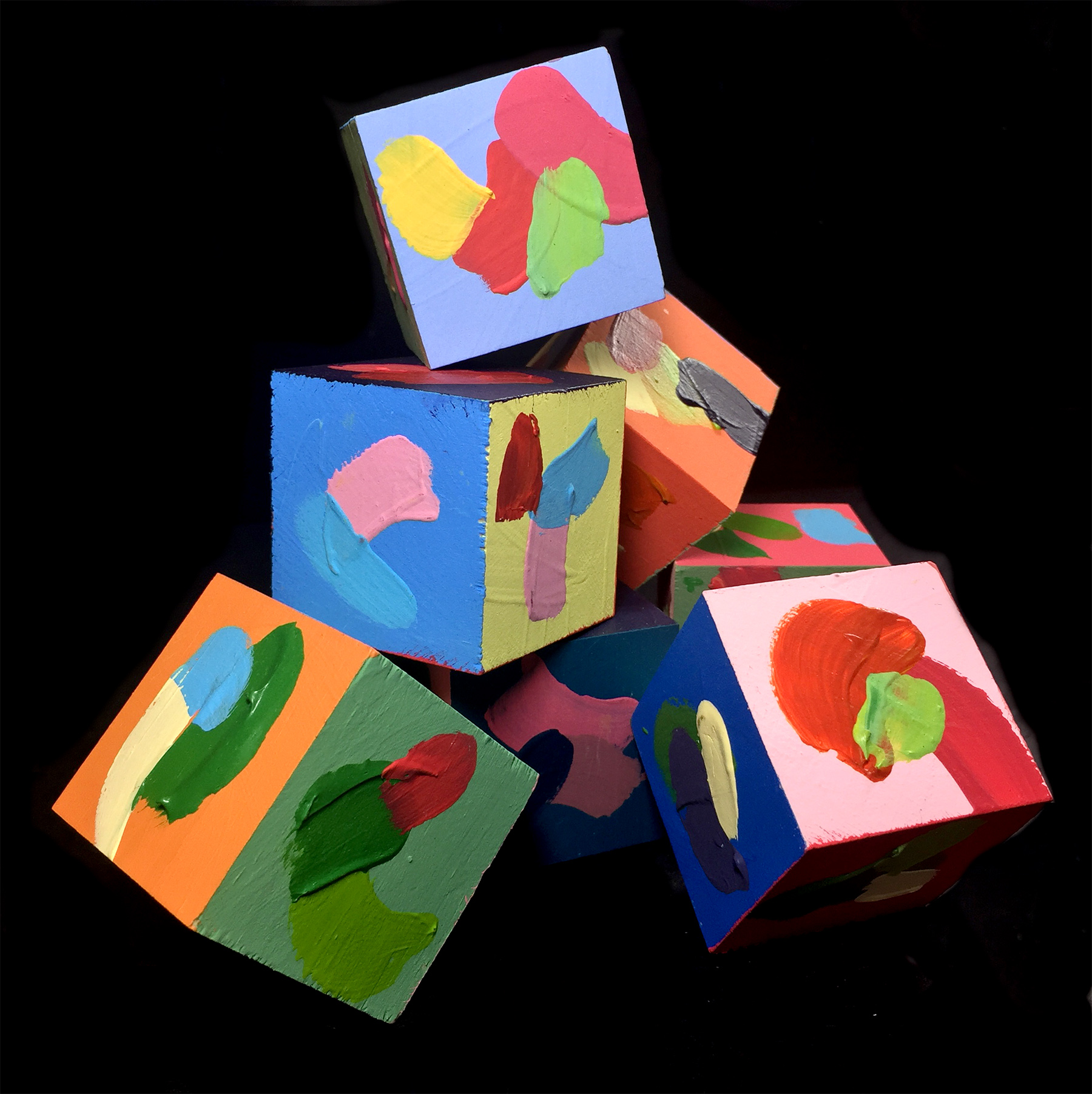 Mountain Stream I (2016)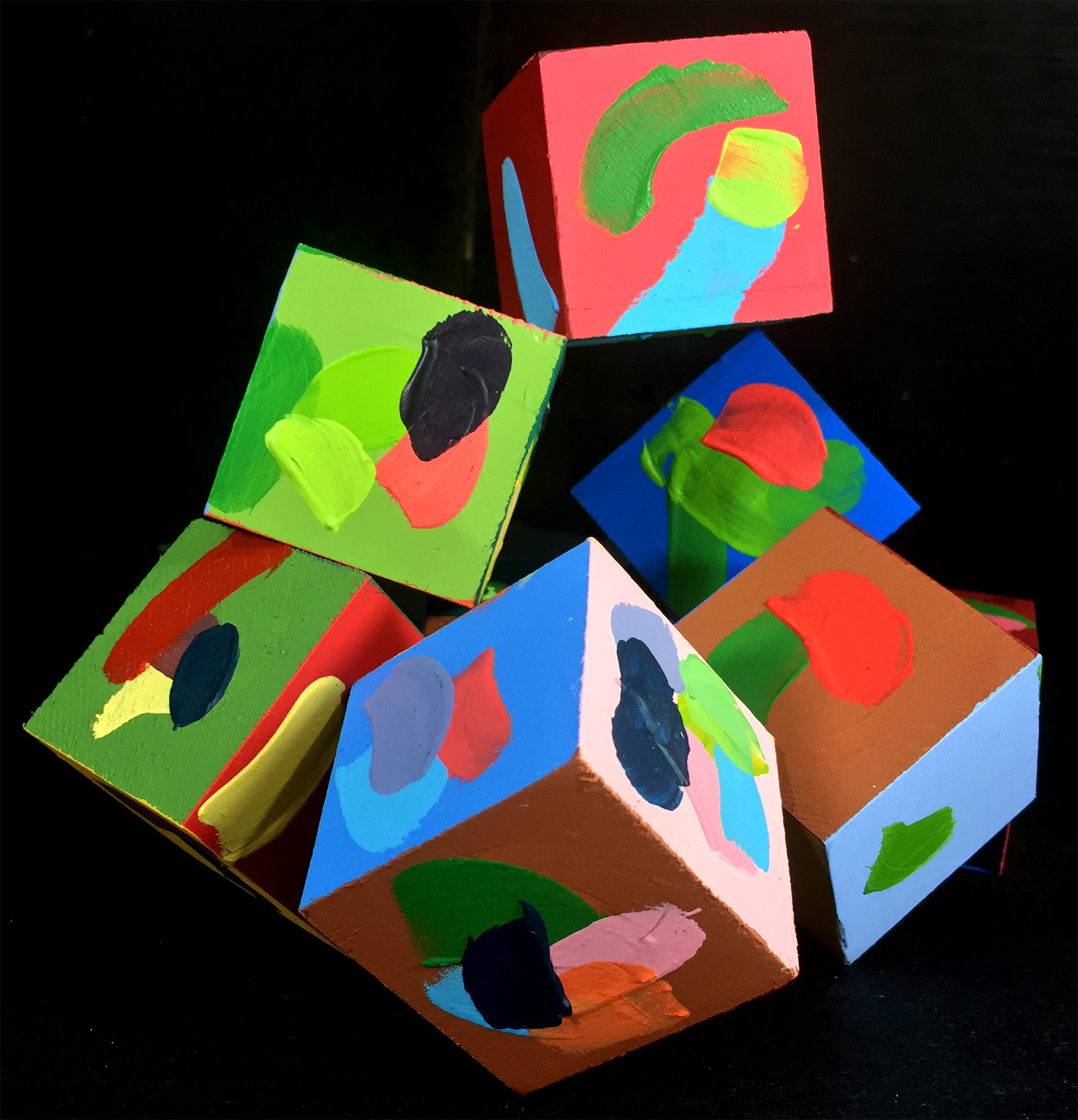 Mountain Stream 2 (2016)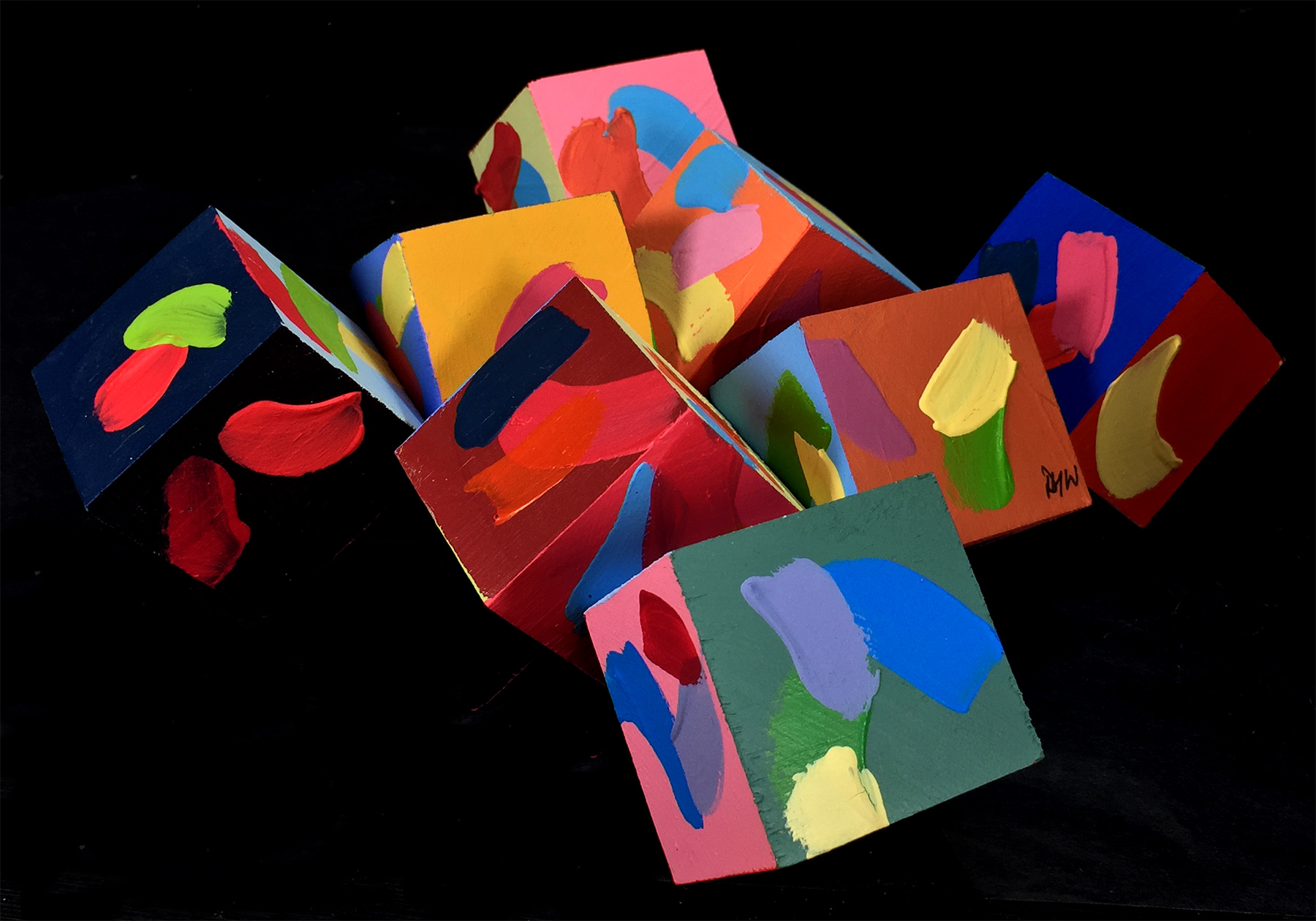 Mountain Stream 3 (2016)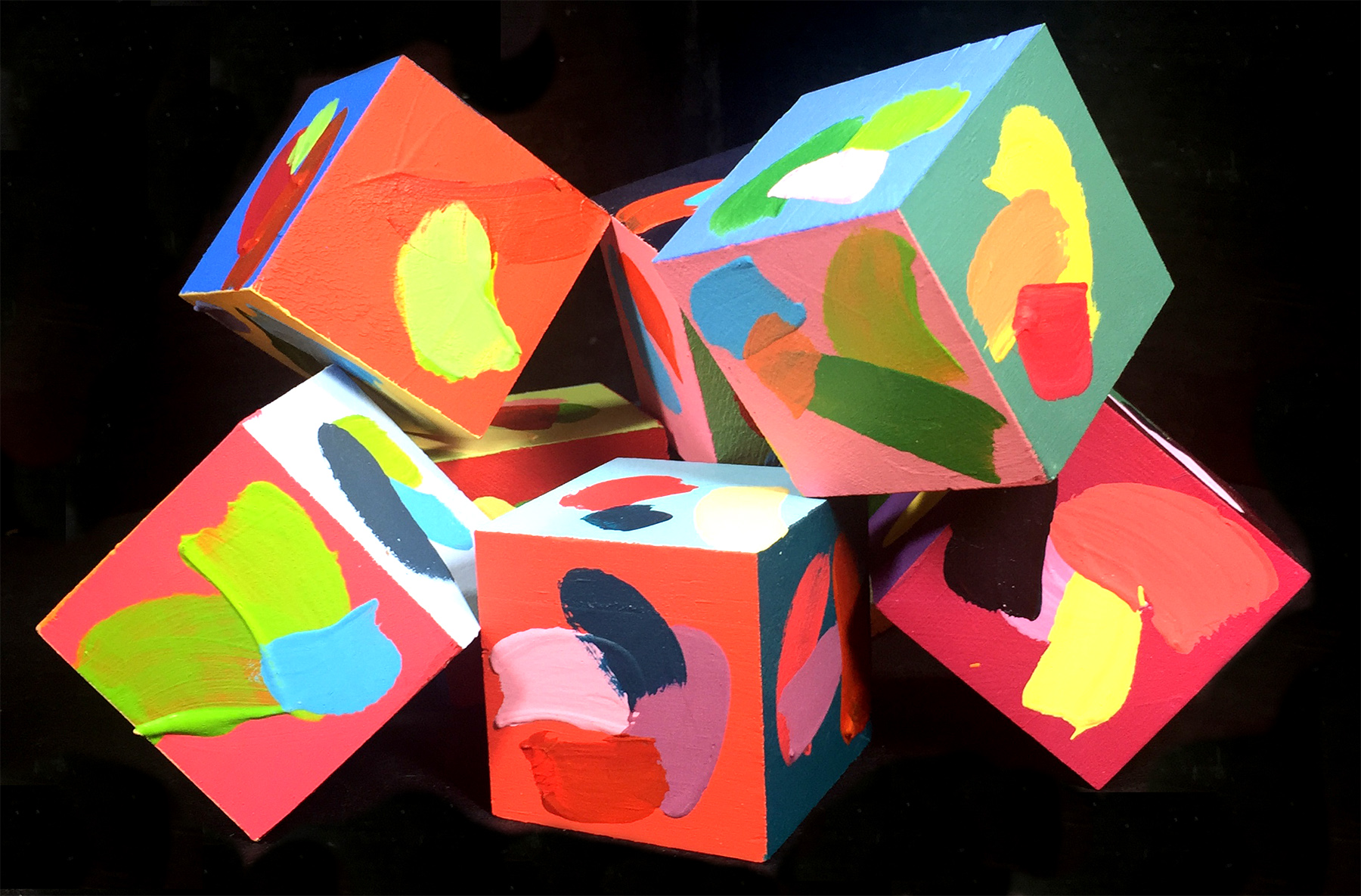 Mountain Stream 4 (2016)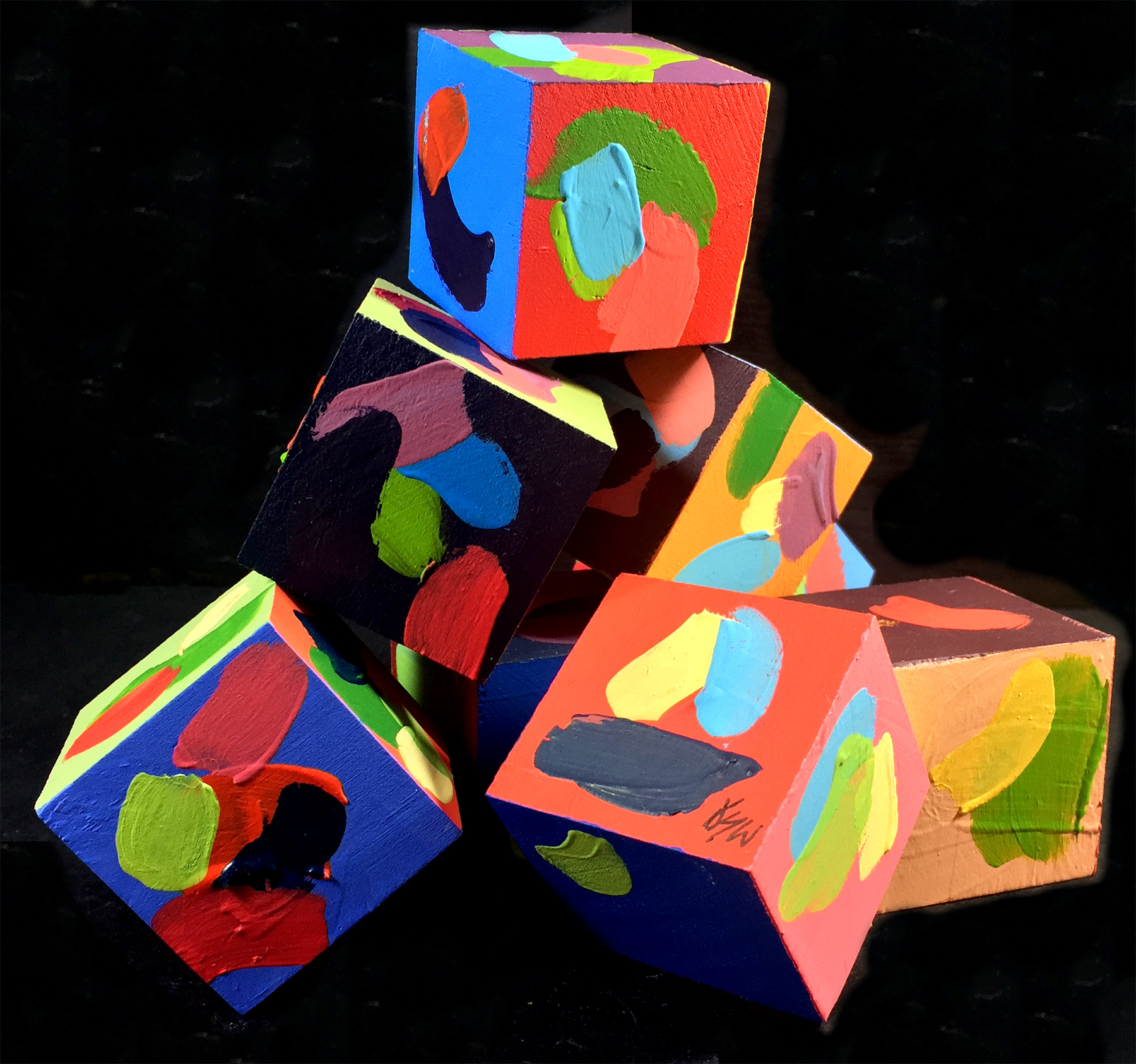 Mountain Stream 5 (2016)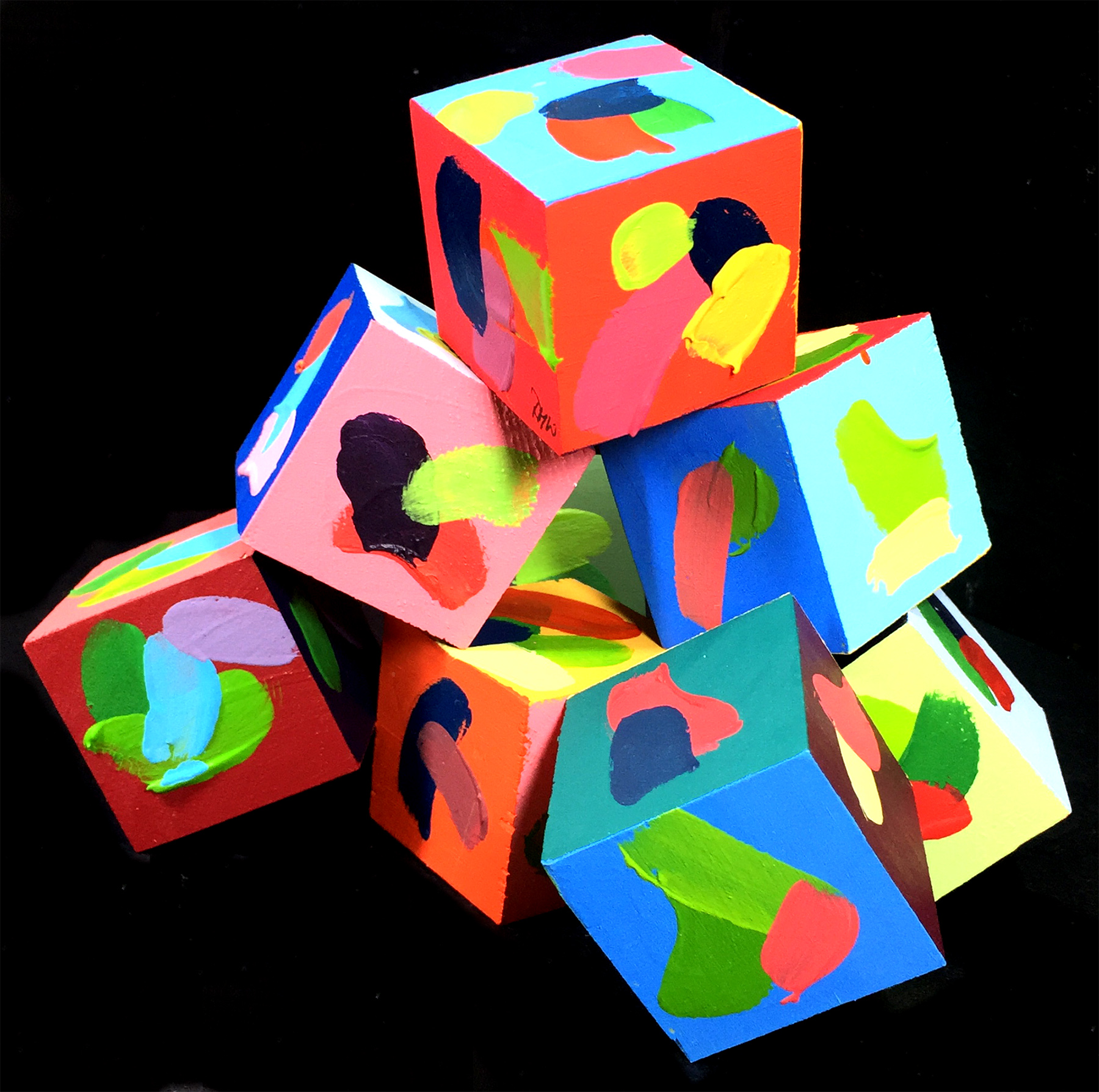 Mountain Stream 6 (2016)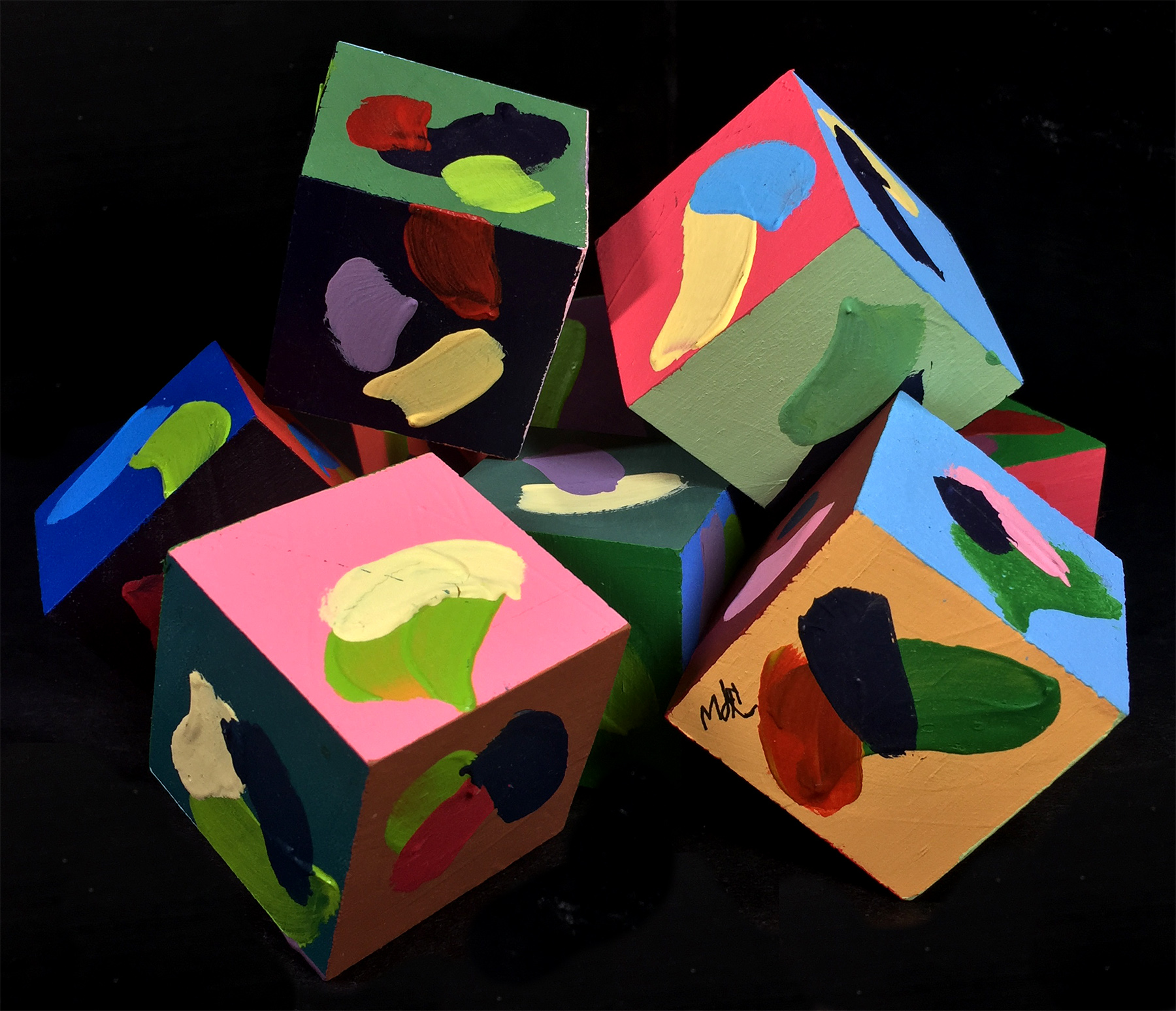 Mountain Stream 7 (2016)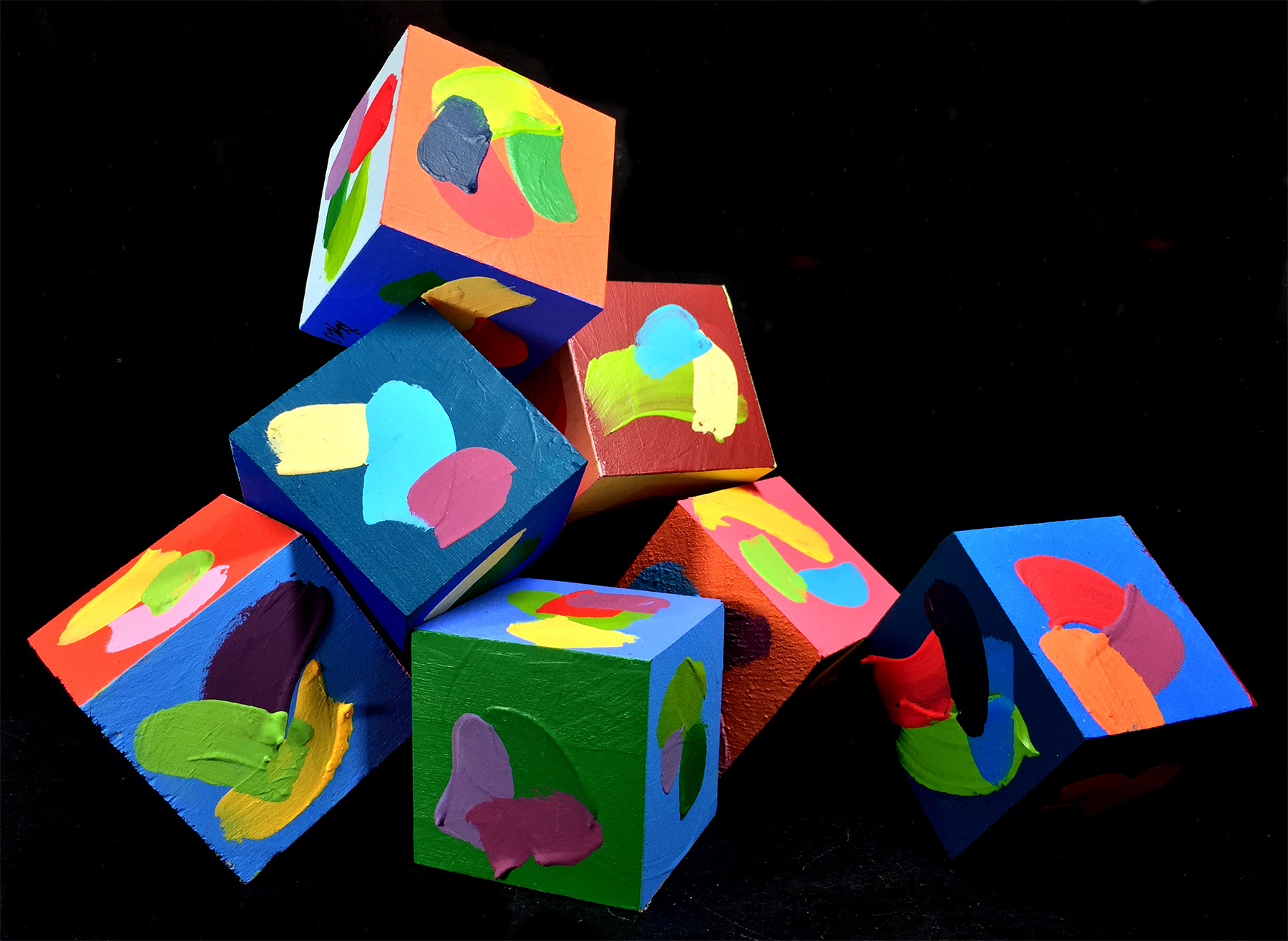 Mountain Stream 8 (2016)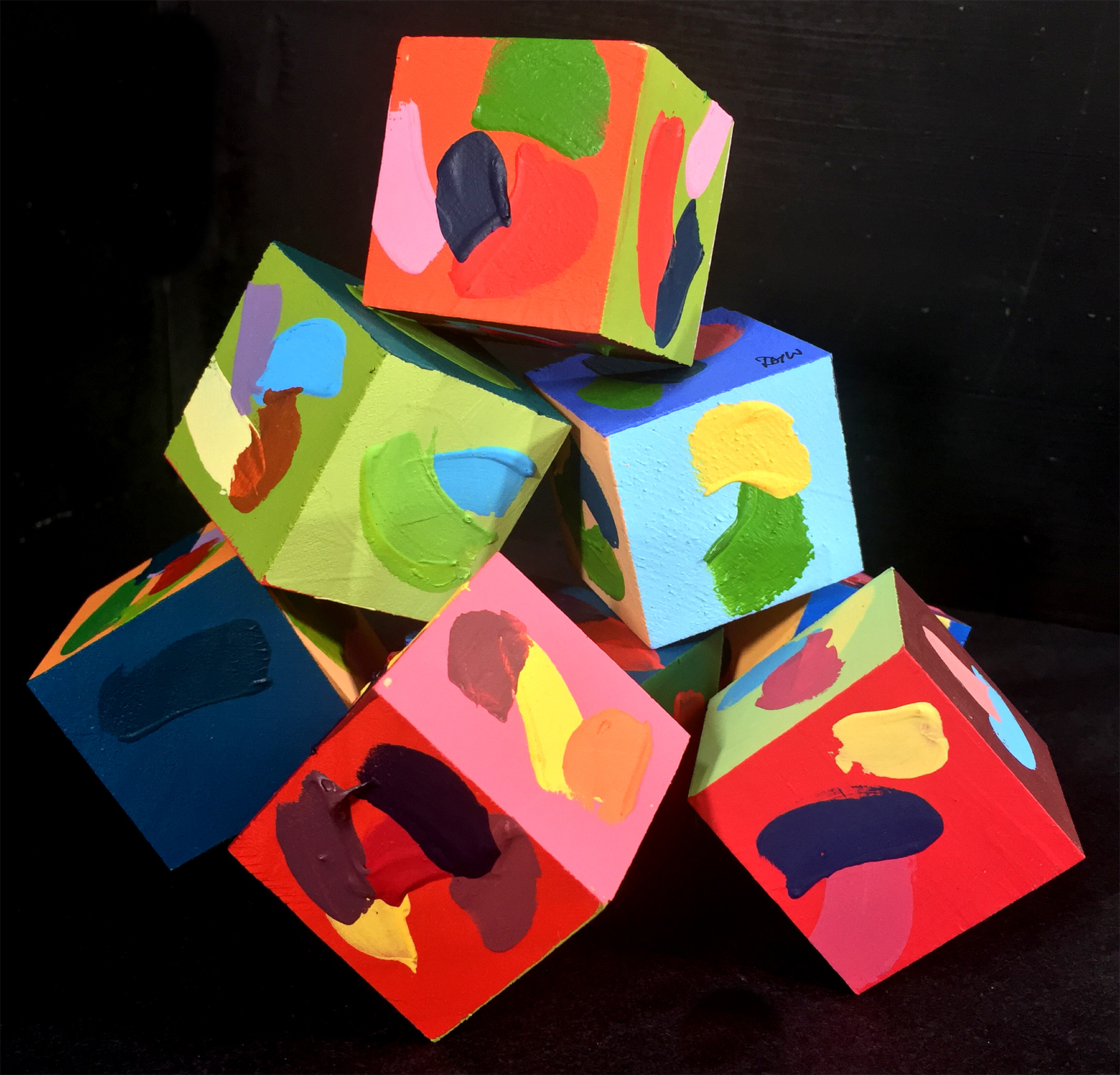 Mountain Stream 9 (2016)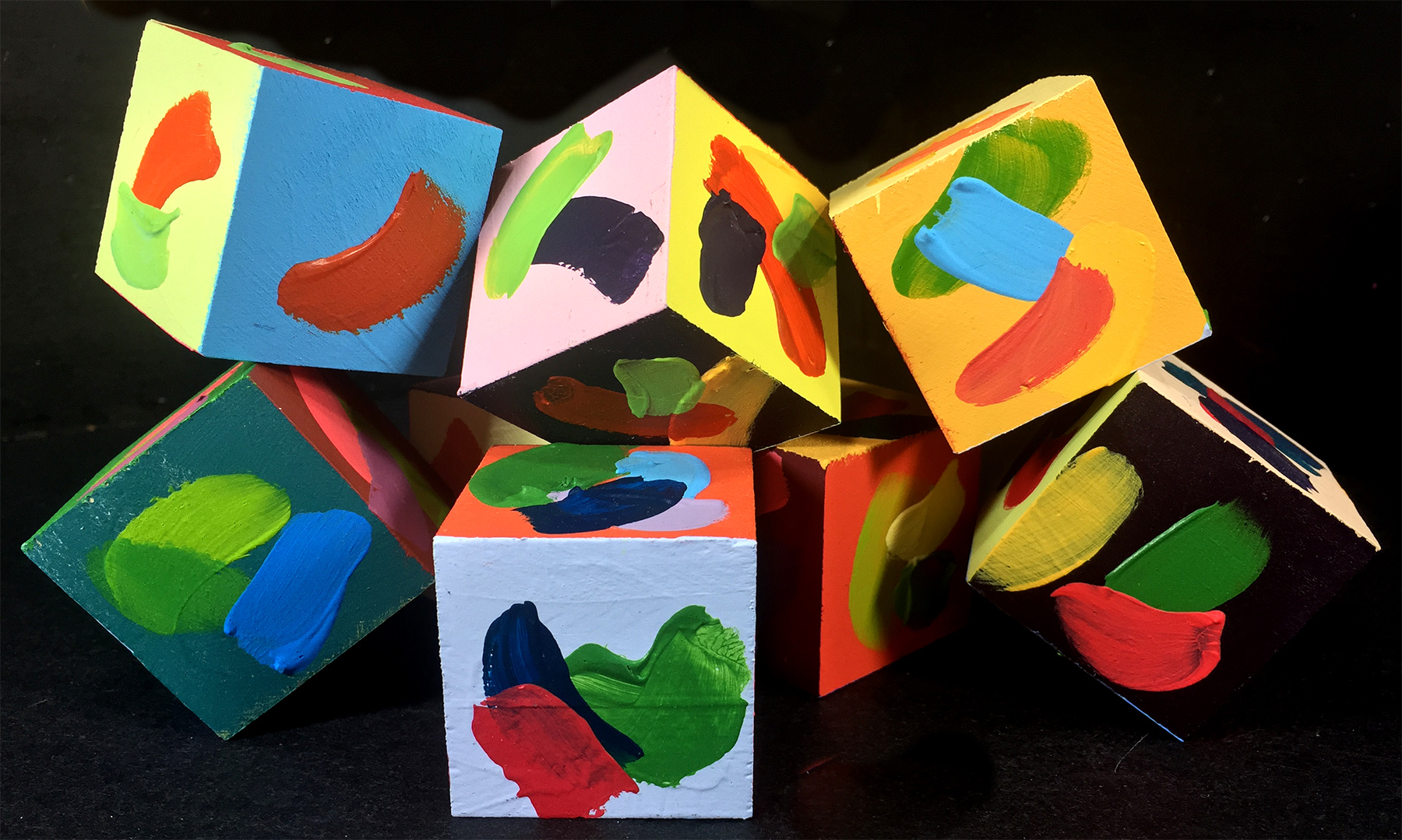 Mountain Stream 10 (2016)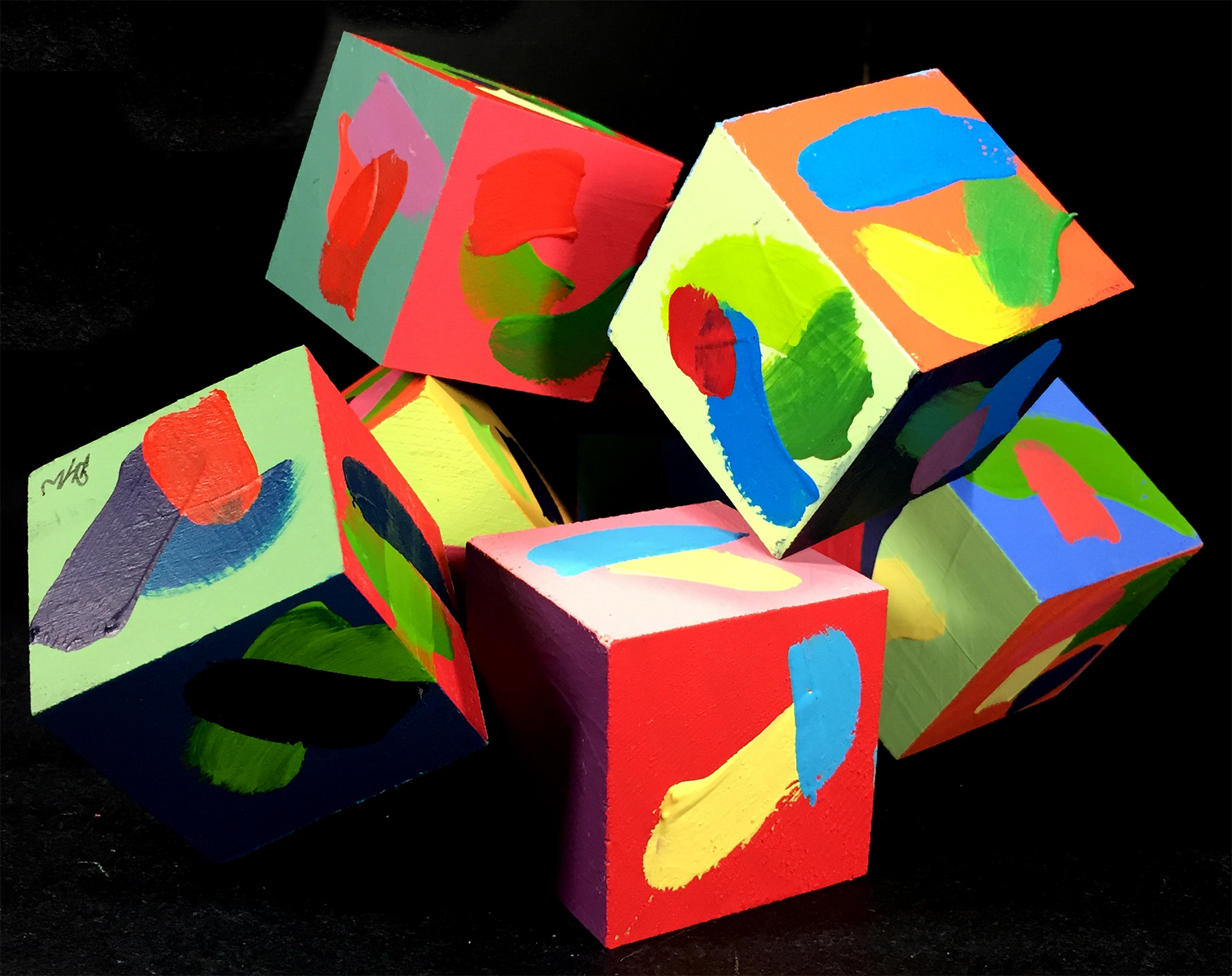 Mountain Stream 11 (2016)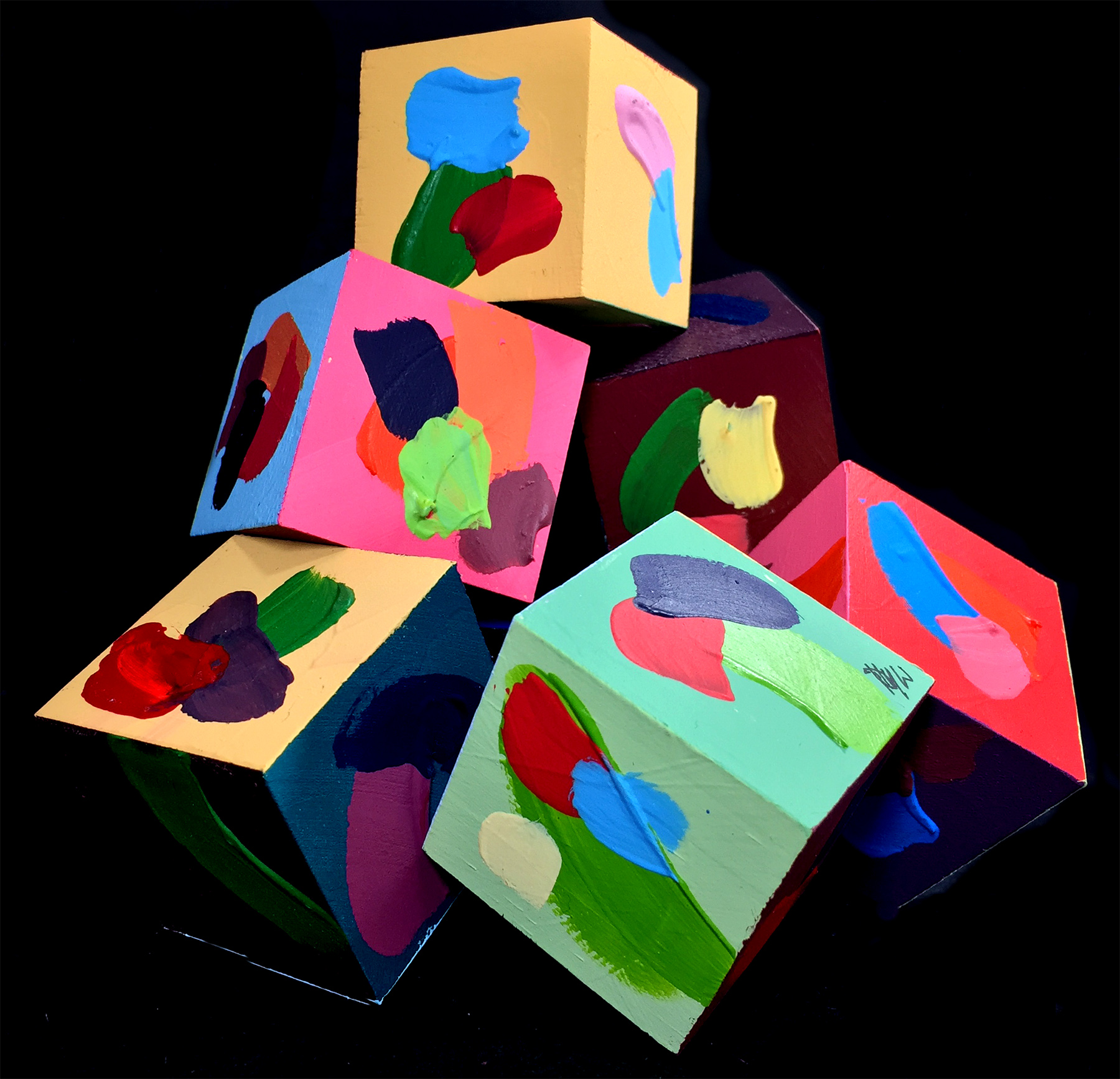 Mountain Stream 12 (2016)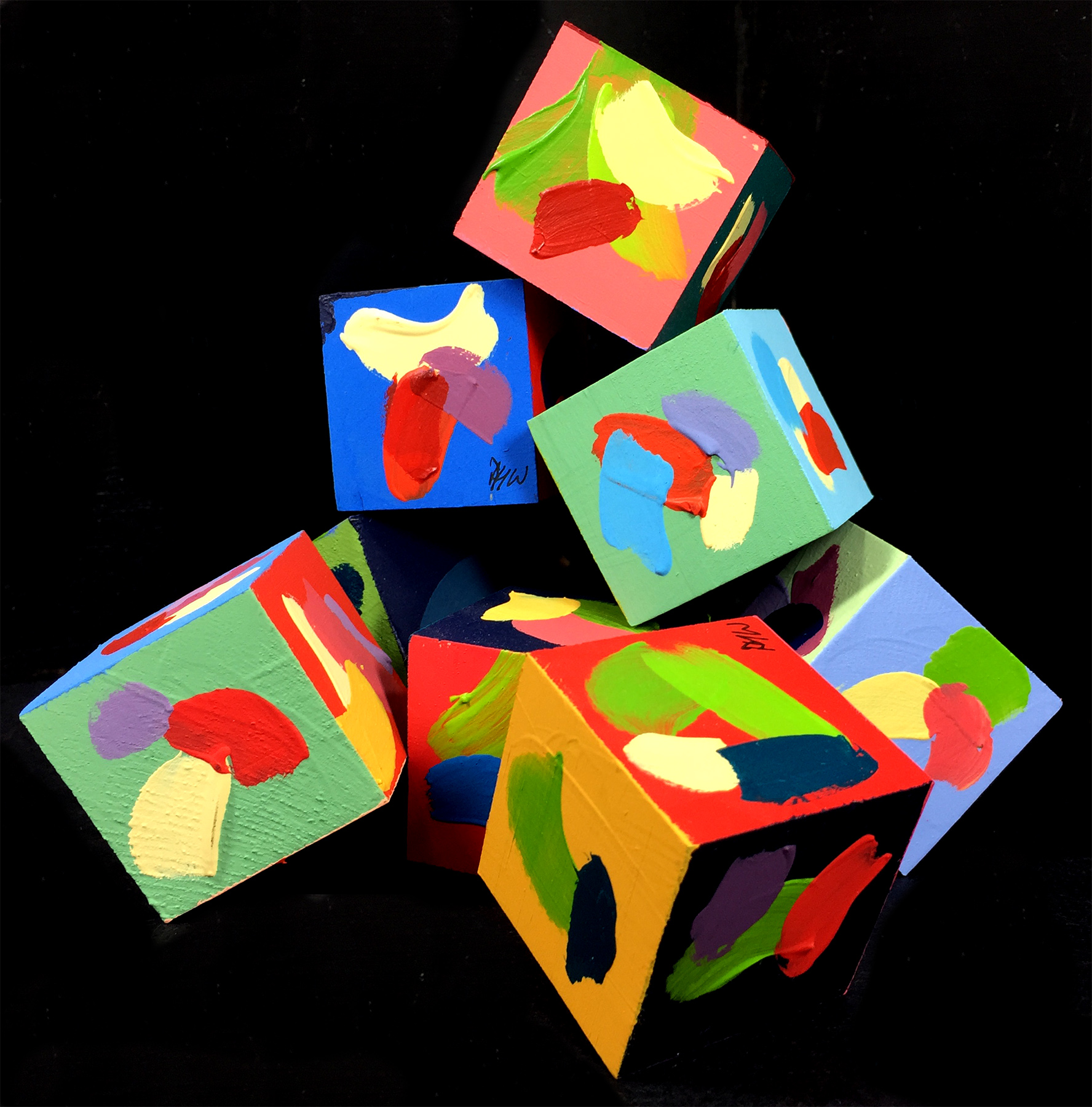 Mountain Stream 13 (2016)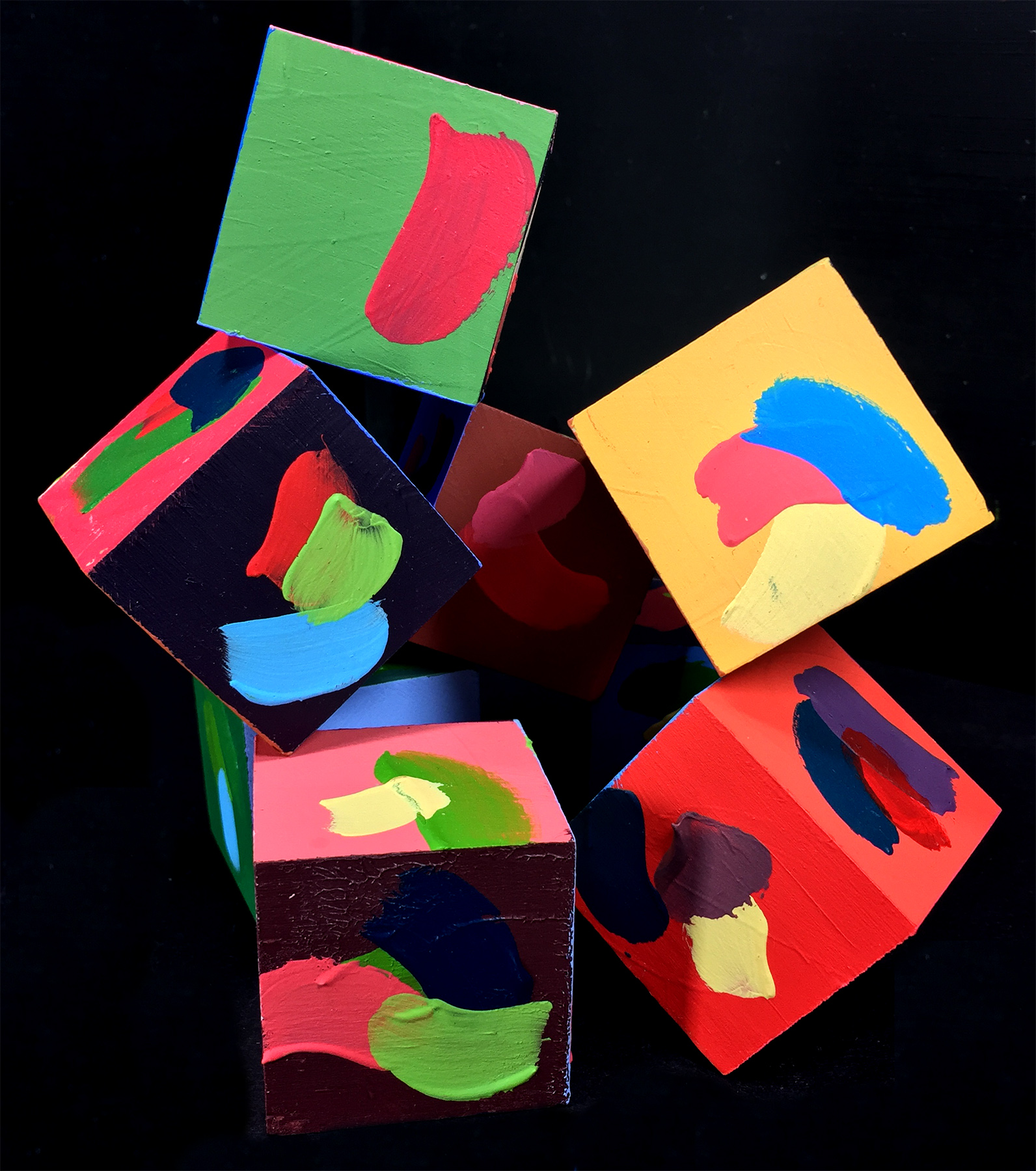 Mountain Stream 14 (2016)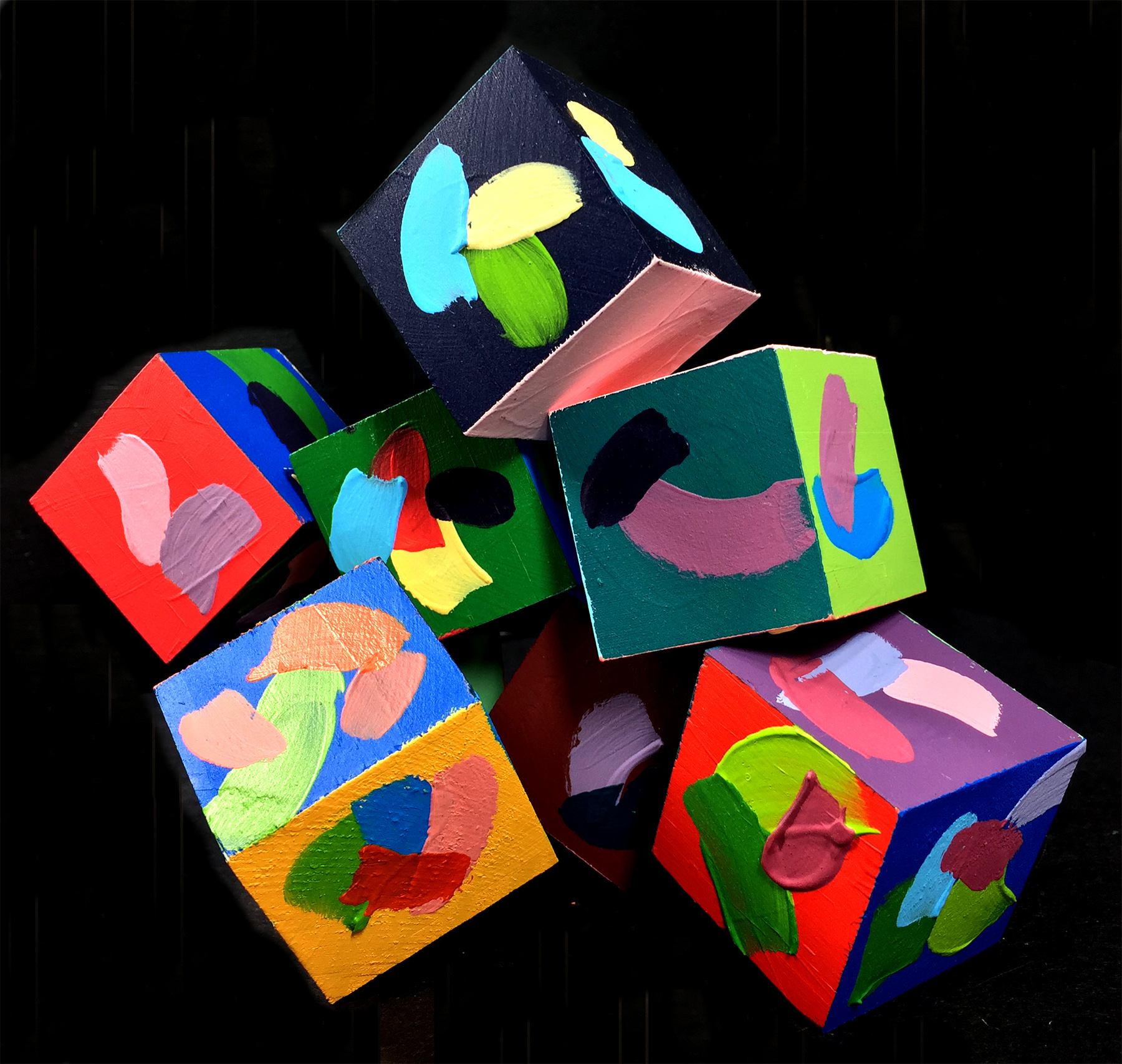 Mountain Stream 15 (2016)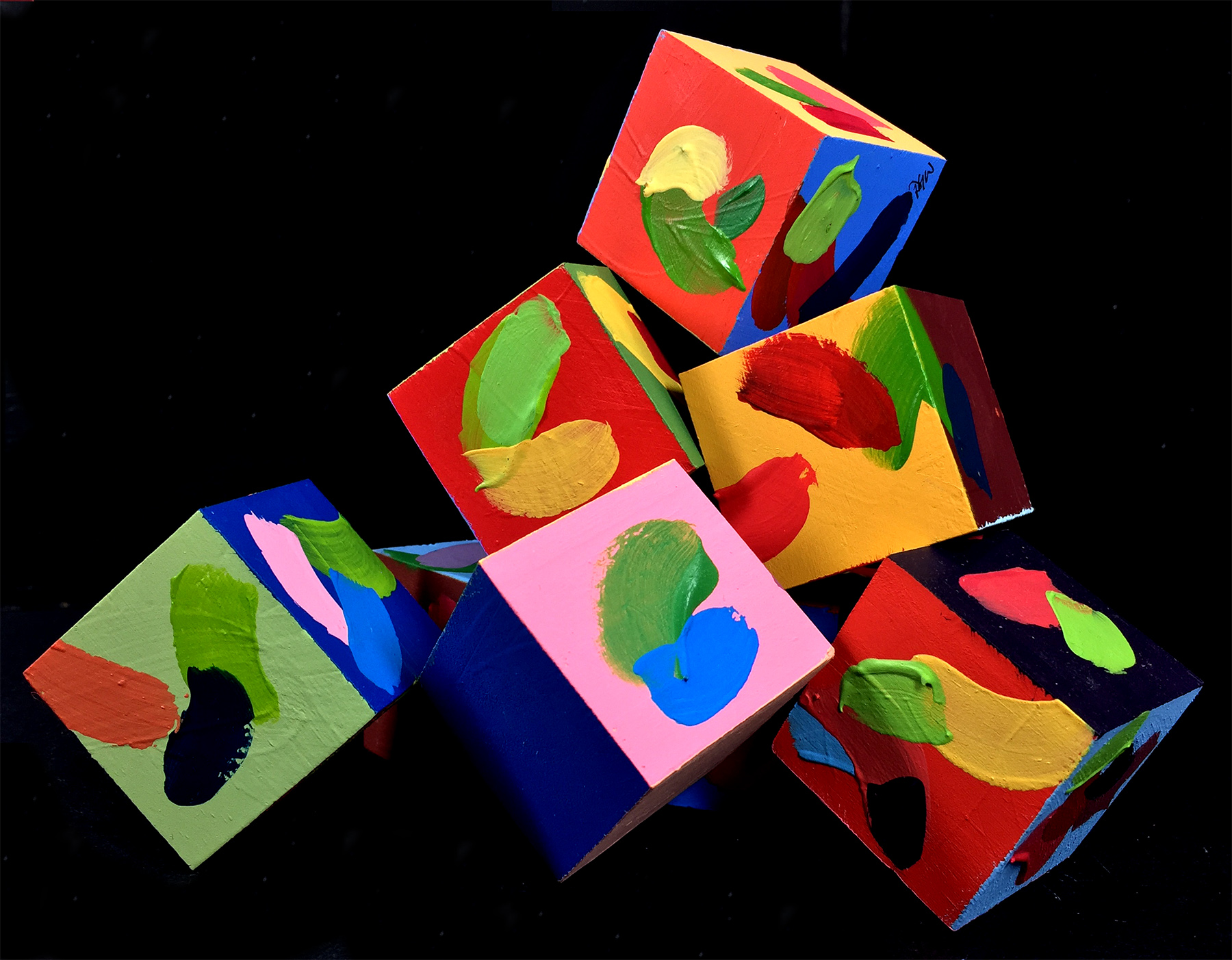 Mountain Stream 16 (2016)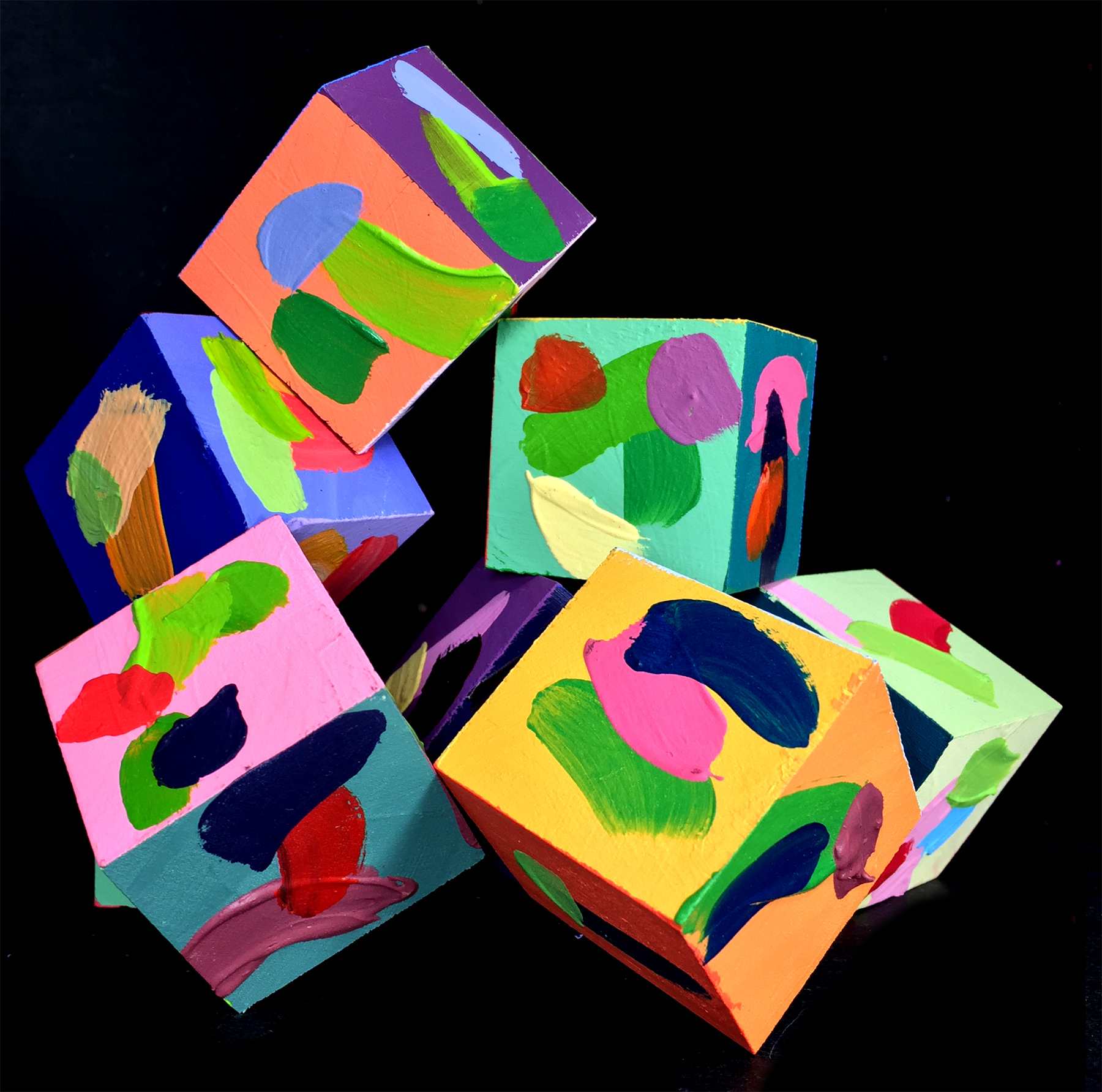 Mountain Stream 17 (2016)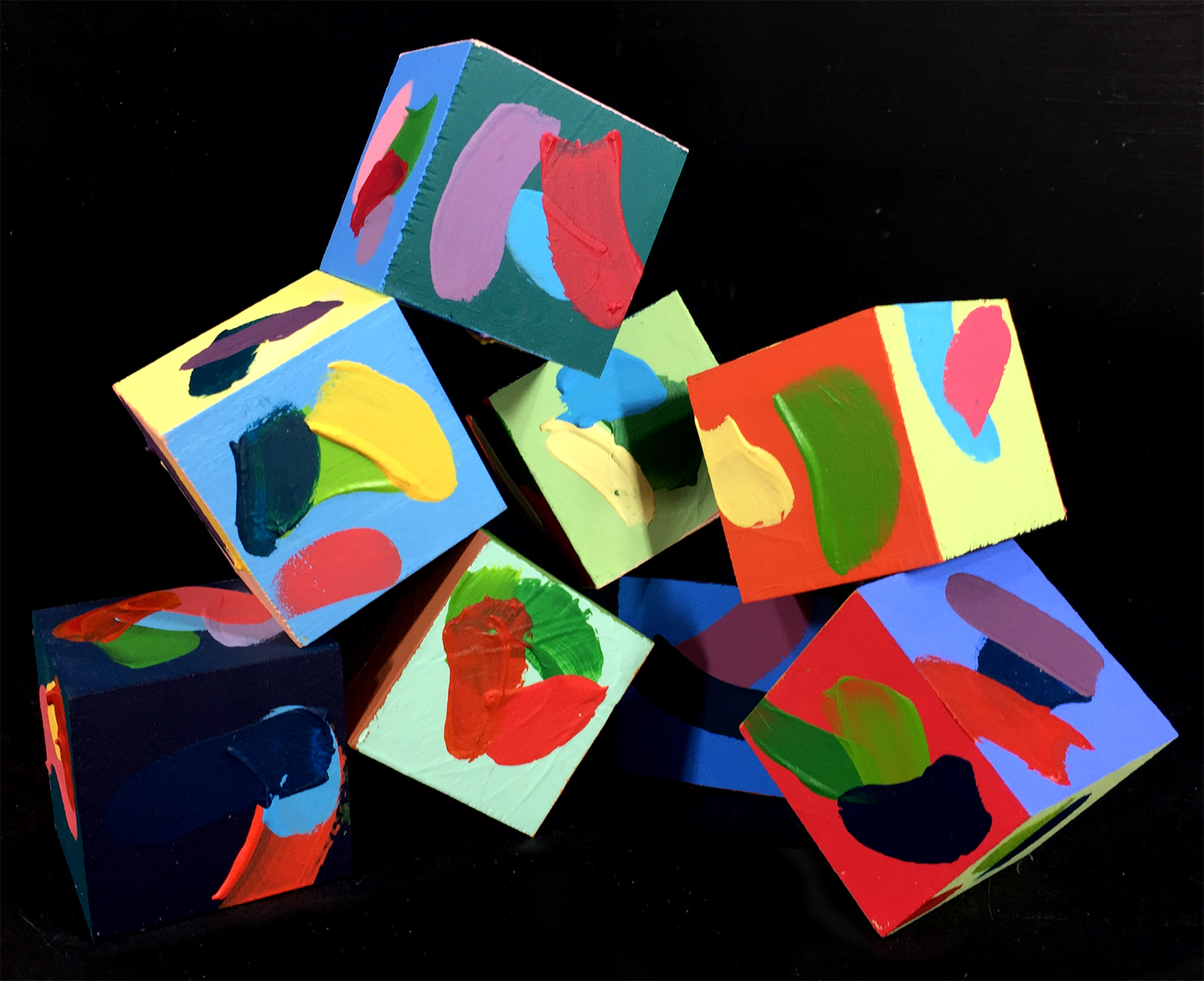 Mountain Stream 18 (2016)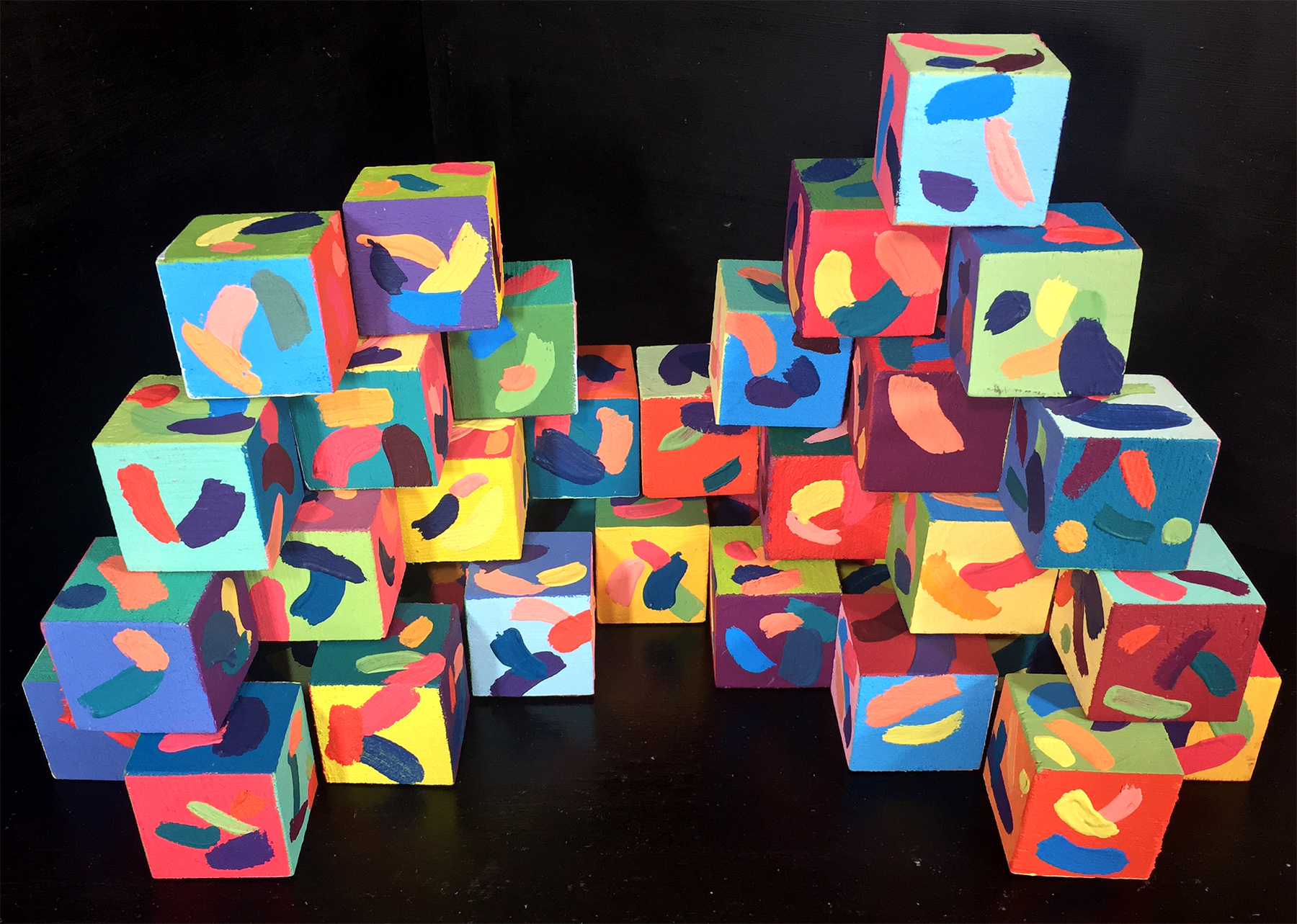 Autumnscape I (2016)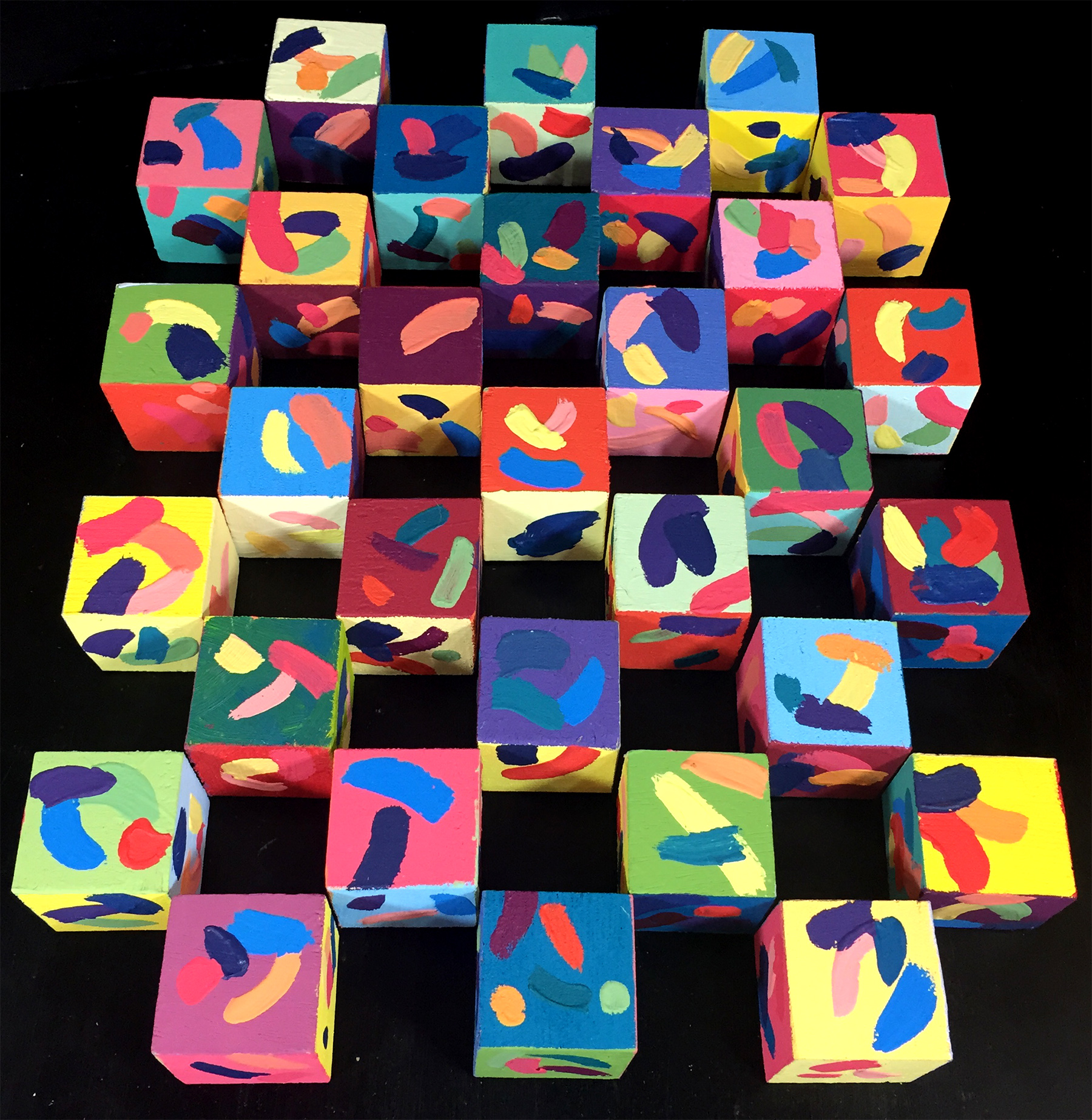 Autumn Harvest I (2016)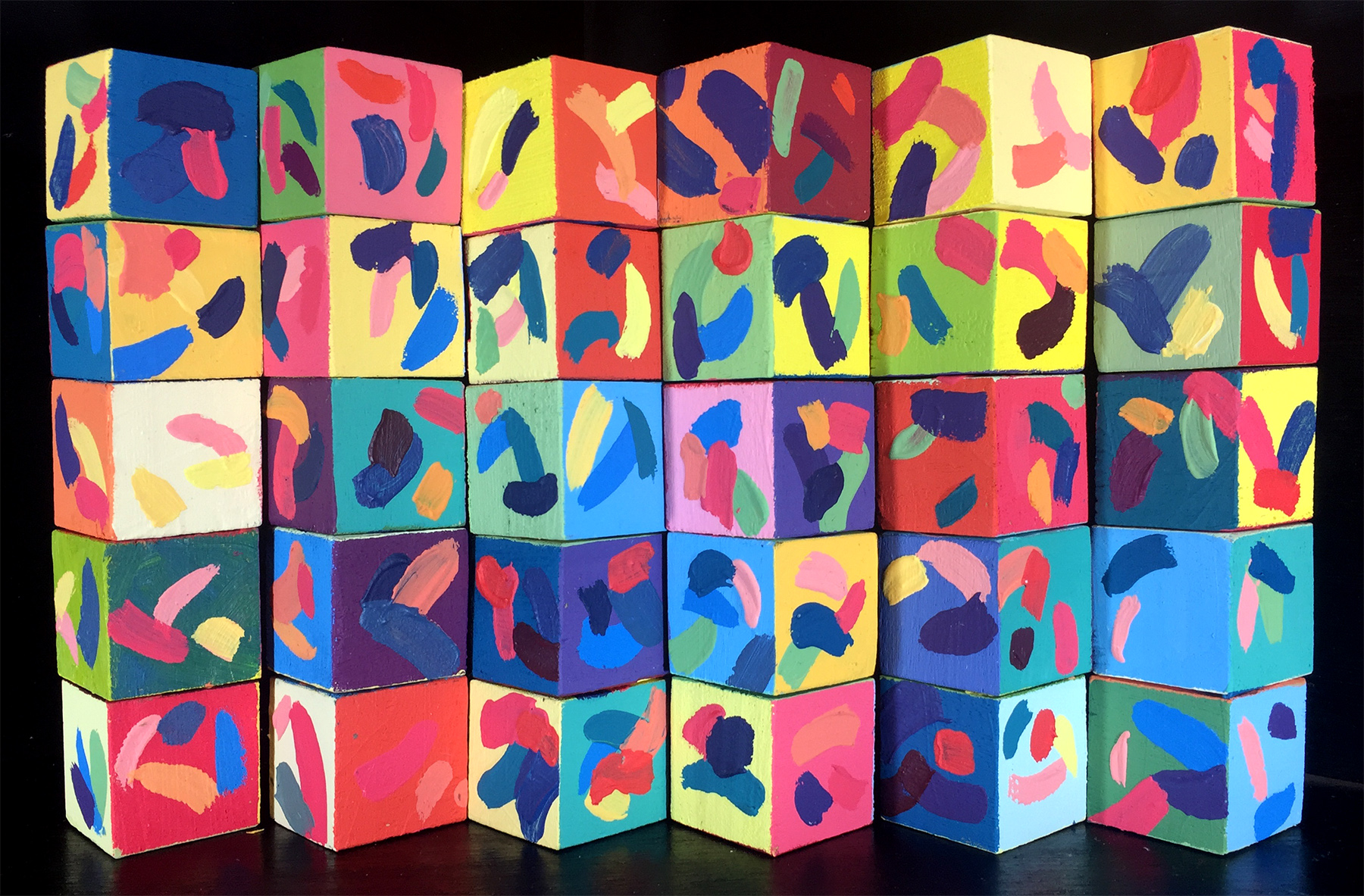 Autumn Harvest Wall II (2016)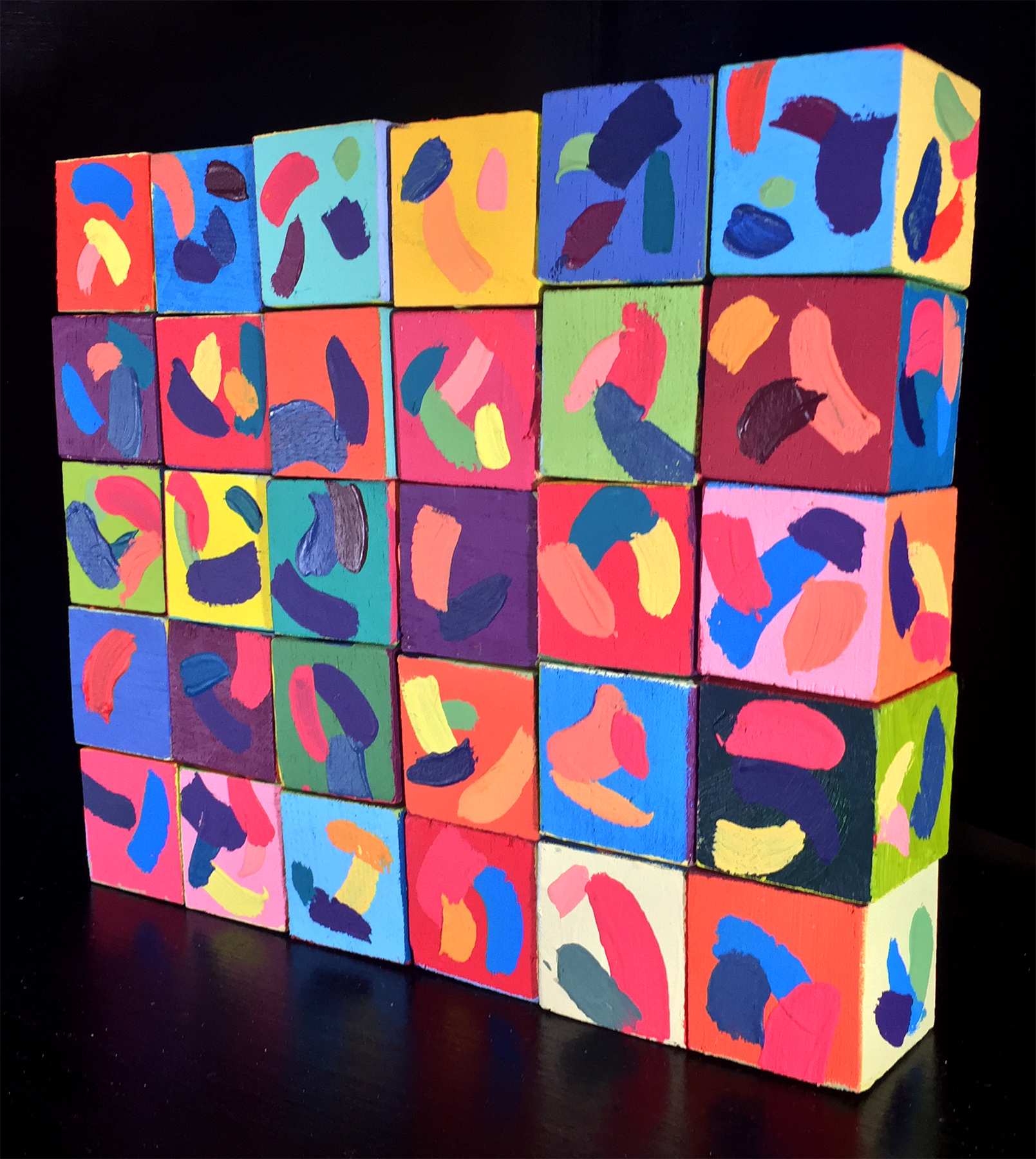 Autumn Harvest Wall III (2016)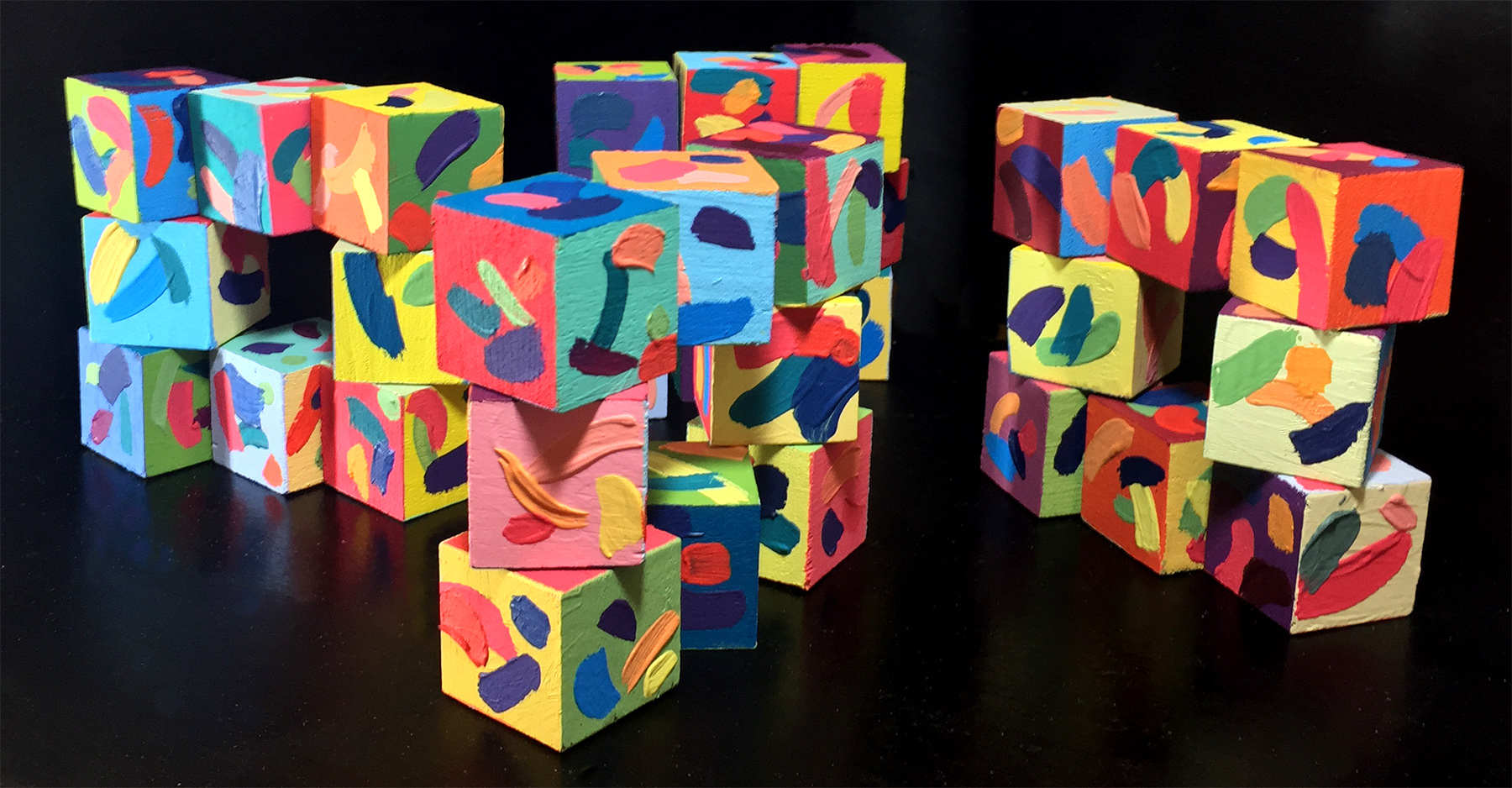 Autumn Harvest Wall IV (2016)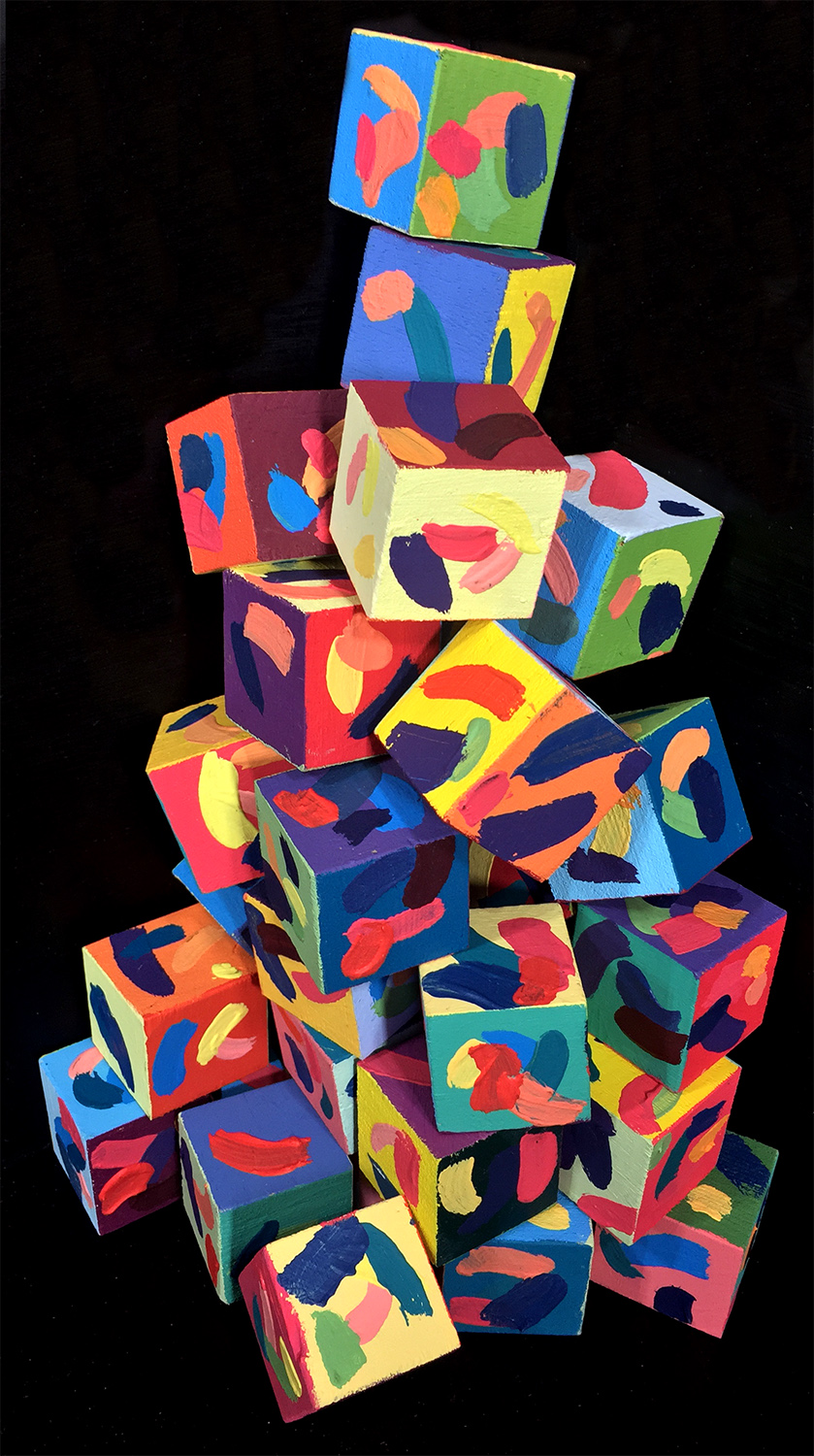 High Peak I (2016)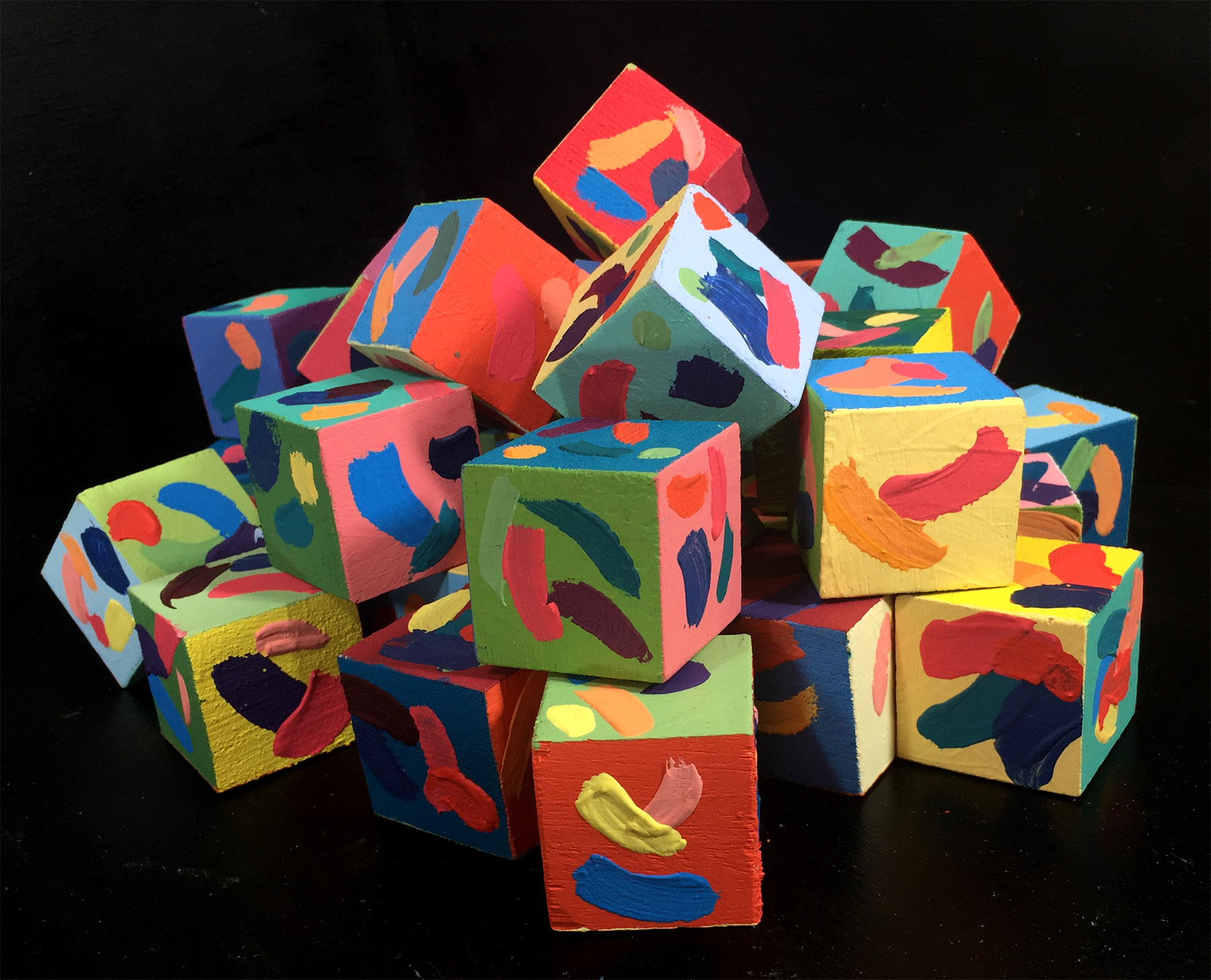 Leaf Fall (2016)
Mountain Stream I (2016)

£175.00

8x Hand Painted Wooden Cubes

Each cube 38 mm.

Limited Edition of 1/50

Signed by the artist


[wp_cart_button name="Mountain Stream I (2016)" price="175.00" shipping="20.00"]

Mountain Stream 2 (2016)

£175.00

8x Hand Painted Wooden Cubes

Each cube 38 mm.

Limited Edition of 2/50

Signed by the artist


[wp_cart_button name="Mountain Stream 2 (2016)" price="175.00" shipping="€20.00"]

Mountain Stream 3 (2016)

£175.00

8x Hand Painted Wooden Cubes

Each cube 38 mm.

Limited Edition of 3/50

Signed by the artist


[wp_cart_button name="Mountain Stream 3 (2016)" price="175.00" shipping="€20.00"]

Mountain Stream 4 (2016)

£175.00

8x Hand Painted Wooden Cubes

Each cube 38 mm.

Limited Edition of 4/50

Signed by the artist


[wp_cart_button name="Mountain Stream 4 (2016)" price="175.00" shipping="€20.00"]

Mountain Stream 5 (2016)

£175.00

8x Hand Painted Wooden Cubes

Each cube 38 mm.

Limited Edition of 5/50

Signed by the artist


[wp_cart_button name="Mountain Stream 5 (2016)" price="175.00" shipping="€20.00"]

Mountain Stream 6 (2016)

£175.00

8x Hand Painted Wooden Cubes

Each cube 38 mm.

Limited Edition of 6/50

Signed by the artist


[wp_cart_button name="Mountain Stream 6 (2016)" price="175.00" shipping="€20.00"]

Mountain Stream 7 (2016)

£175.00

8x Hand Painted Wooden Cubes

Each cube 38 mm.

Limited Edition of 7/50

Signed by the artist


[wp_cart_button name="Mountain Stream 7 (2016)" price="175.00" shipping="€20.00"]

Mountain Stream 8 (2016)

£175.00

8x Hand Painted Wooden Cubes

Each cube 38 mm.

Limited Edition of 8/50

Signed by the artist


[wp_cart_button name="Mountain Stream 8 (2016)" price="175.00" shipping="€20.00"]

Mountain Stream 9 (2016)

£175.00

8x Hand Painted Wooden Cubes

Each cube 38 mm.

Limited Edition of 9/50

Signed by the artist


[wp_cart_button name="Mountain Stream 9 (2016)" price="175.00" shipping="€20.00"]

Mountain Stream 10 (2016)

£175.00

8x Hand Painted Wooden Cubes

Each cube 38 mm.

Limited Edition of 10/50

Signed by the artist


[wp_cart_button name="Mountain Stream 10 (2016)" price="175.00" shipping="€20.00"]

Mountain Stream 11 (2016)

£175.00

8x Hand Painted Wooden Cubes

Each cube 38 mm.

Limited Edition of 11/50

Signed by the artist


[wp_cart_button name="Mountain Stream 11 (2016)" price="175.00" shipping="€20.00"]

Mountain Stream 12 (2016)

£175.00

8x Hand Painted Wooden Cubes

Each cube 38 mm.

Limited Edition of 12/50

Signed by the artist


[wp_cart_button name="Mountain Stream 12 (2016)" price="175.00" shipping="€20.00"]

Mountain Stream 13 (2016)

£175.00

8x Hand Painted Wooden Cubes

Each cube 38 mm.

Limited Edition of 13/50

Signed by the artist


[wp_cart_button name="Mountain Stream 13 (2016)" price="175.00" shipping="€20.00"]

Mountain Stream 14 (2016)

£175.00

8x Hand Painted Wooden Cubes

Each cube 38 mm.

Limited Edition of 14/50

Signed by the artist


[wp_cart_button name="Mountain Stream 14 (2016)" price="175.00" shipping="€20.00"]

Mountain Stream 15 (2016)

£175.00

8x Hand Painted Wooden Cubes

Each cube 38 mm.

Limited Edition of 15/50

Signed by the artist


[wp_cart_button name="Mountain Stream 15 (2016)" price="175.00" shipping="€20.00"]

Mountain Stream 16 (2016)

£175.00

8x Hand Painted Wooden Cubes

Each cube 38 mm.

Limited Edition of 16/50

Signed by the artist


[wp_cart_button name="Mountain Stream 16 (2016)" price="175.00" shipping="€20.00"]

Mountain Stream 17 (2016)

£175.00

8x Hand Painted Wooden Cubes

Each cube 38 mm.

Limited Edition of 17/50

Signed by the artist


[wp_cart_button name="Mountain Stream 17 (2016)" price="175.00" shipping="€20.00"]

Mountain Stream 18 (2016)

£175.00

8x Hand Painted Wooden Cubes

Each cube 38 mm.

Limited Edition of 18/50

Signed by the artist


[wp_cart_button name="Mountain Stream 18 (2016)" price="175.00" shipping="€20.00"]

Autumnscape I (2016)

£375.00

Limited Edition of 3

36 Hand Painted Wooden Cubes

Each cube 38 mm.

Signed by the artist


[wp_cart_button name="Autumnscape I (2016)" price="375.00" shipping="45.00"]

Autumn Harvest Wall IV (2016)

£470.00

32x Hand Painted Wooden Cubes

Each cube 38 mm.

Limited Edition of 1/5

Signed by the artist


[wp_cart_button name="Autumn Harvest Wall IV (2016)" price="470.00" shipping="50.00"]

High Peak I (2016)

£425.00

Limited Edition of 5

32x Hand Painted Wooden Cubes

Each cube 38 mm.

Signed by the artist


[wp_cart_button name="High Peak I (2016)" price="425.00" shipping="45.00"]

Leaf Fall (2016)

£325.00

Limited Edition of 5

24x Hand Painted Wooden Cubes

Each cube 38 mm.

Signed by the artist


[wp_cart_button name="Leaf Fall (2016)" price="325.00" shipping="45.00"]
Link Top of Page